TheraTree offers and participates in many events to and with the community. We host Sensory Sensitive Holiday Events, intensive camp programming and feature guest experts.
Thanksgiving with TheraTree
Saturday, December 3rd, 2022
9:00am - 12:00pm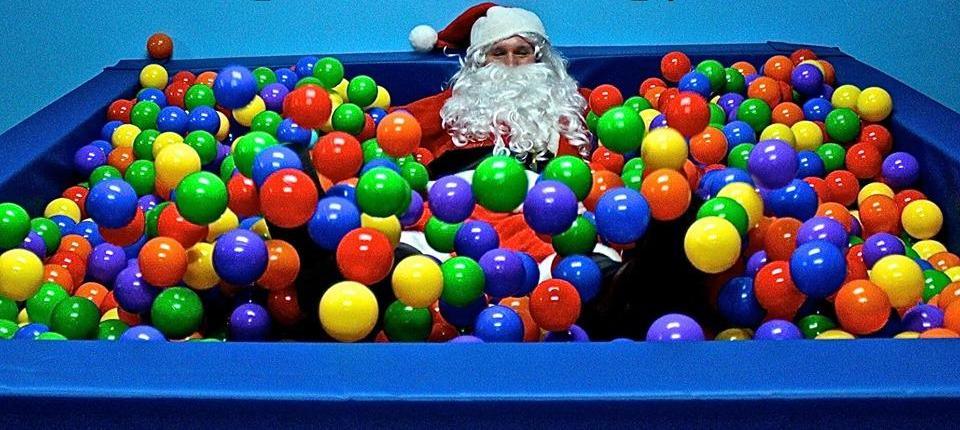 TheraTree provides an opportunity to schedule a private meeting with your family and Santa Claus.

This is a FREE event.

Please arrive at your scheduled time to complete a craft with our staff before seeing Santa.
Siblings are welcome to join the fun!
Sign up for a FREE therapy screenings to make sure your child is on track developmentally!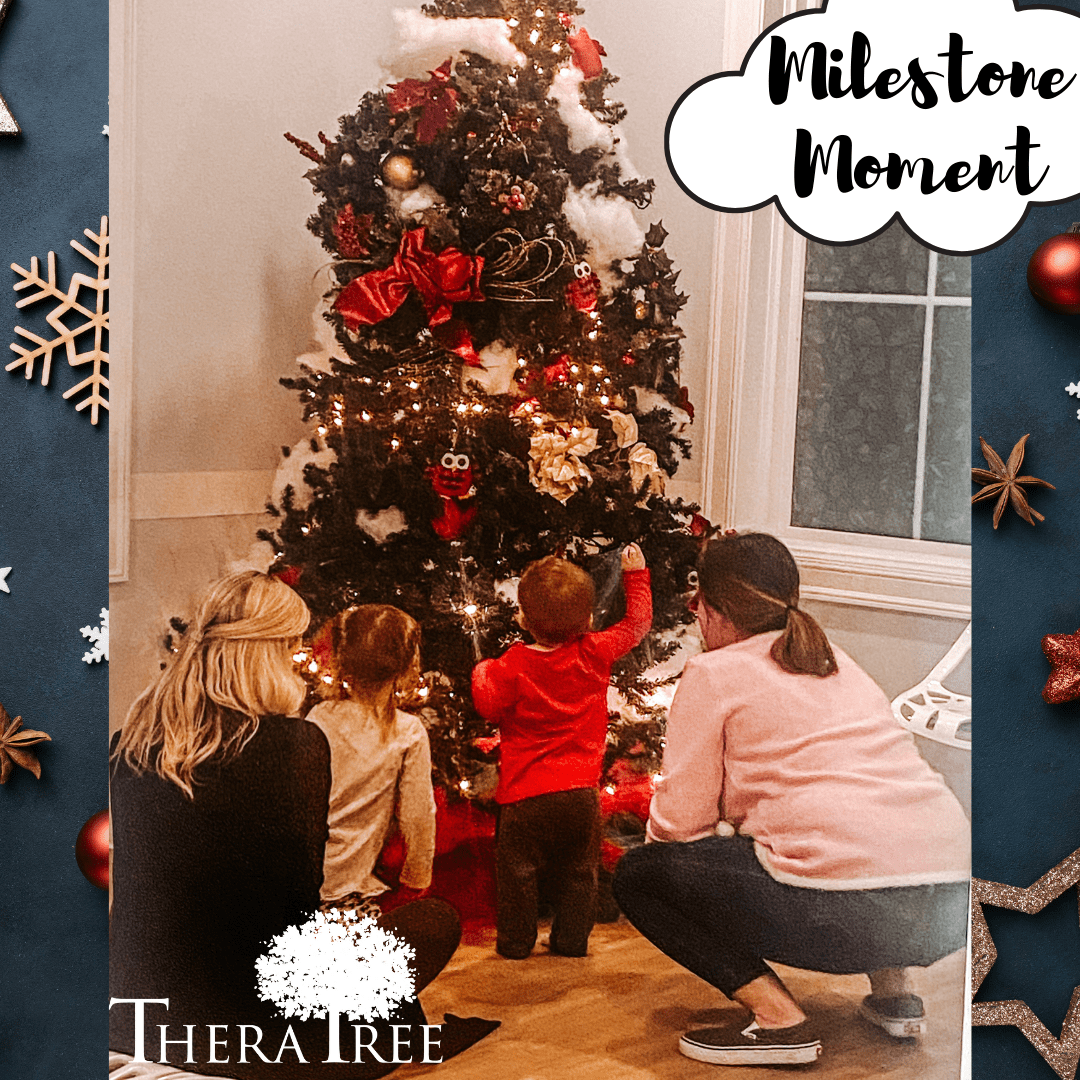 ⭐️Milestone Moment⭐️
The best way to see Christmas is through the eyes of a child...
Gabe stopping to admire the TheraTree lobby Christmas tree at the end of his session. Reaching, pointing, and saying "see" to big sister, Mom, and Ms. Danielle. Keep reaching for the stars Gabe!!✨
✅ Does your child need help? Get help now:
🔗
https://bit.ly/TheraTreeNewPatient
📞💬 270-688-8449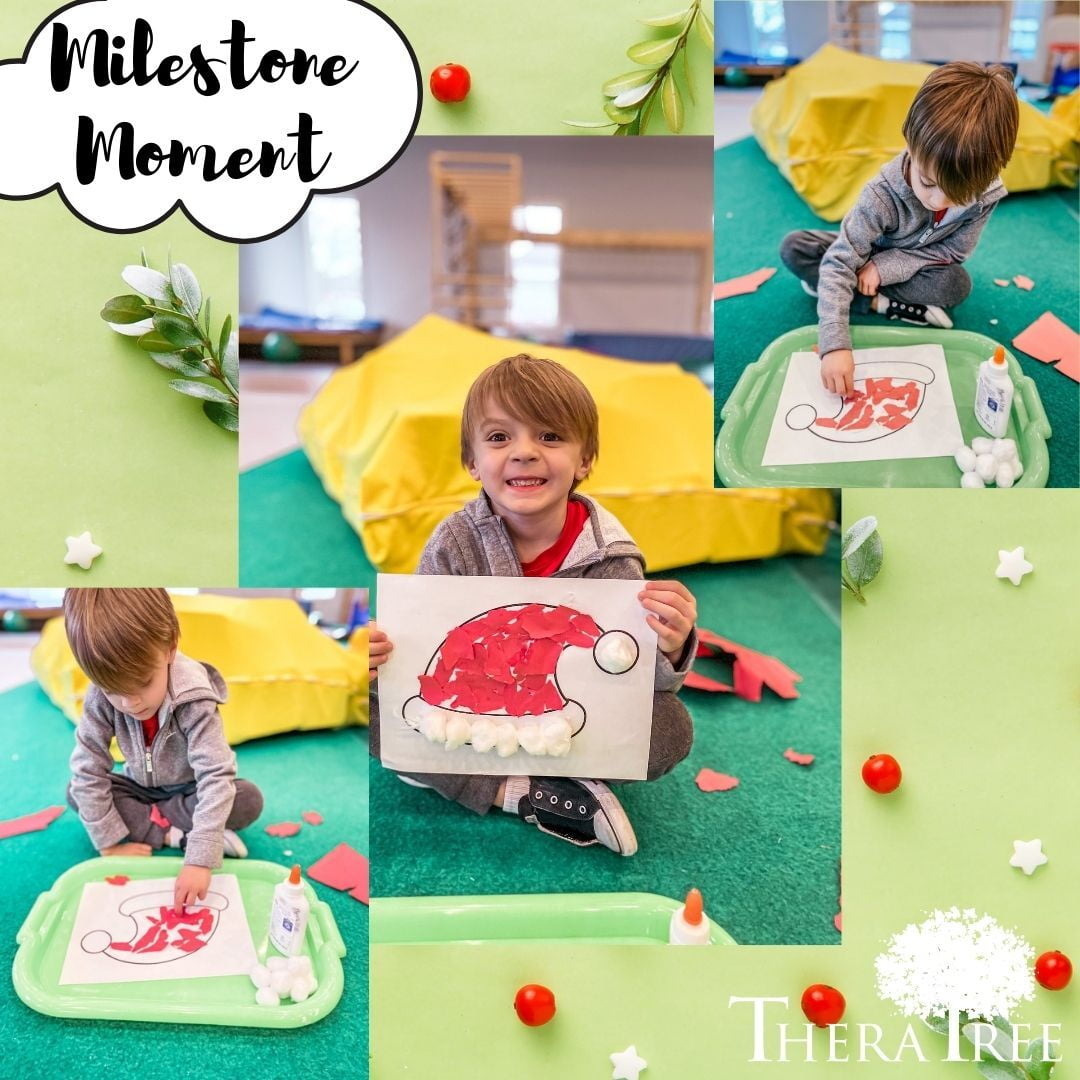 ⭐️ Milestone Moment ⭐️
Draven is crushing his hand strengthening and fine motor goals. He is increasing his hand strength by ripping paper for this Santa hat craft!! Hand strength is needed for so many tasks like handwriting and self-care. Way to go Draven - we are so proud of you!
✅ Does your child need help with hand strength or fine motor skills? Get help now:
🔗 https://zurl.co/3Wgn
📞 270-688-8449📞 270-688-8449📞 270-688-8449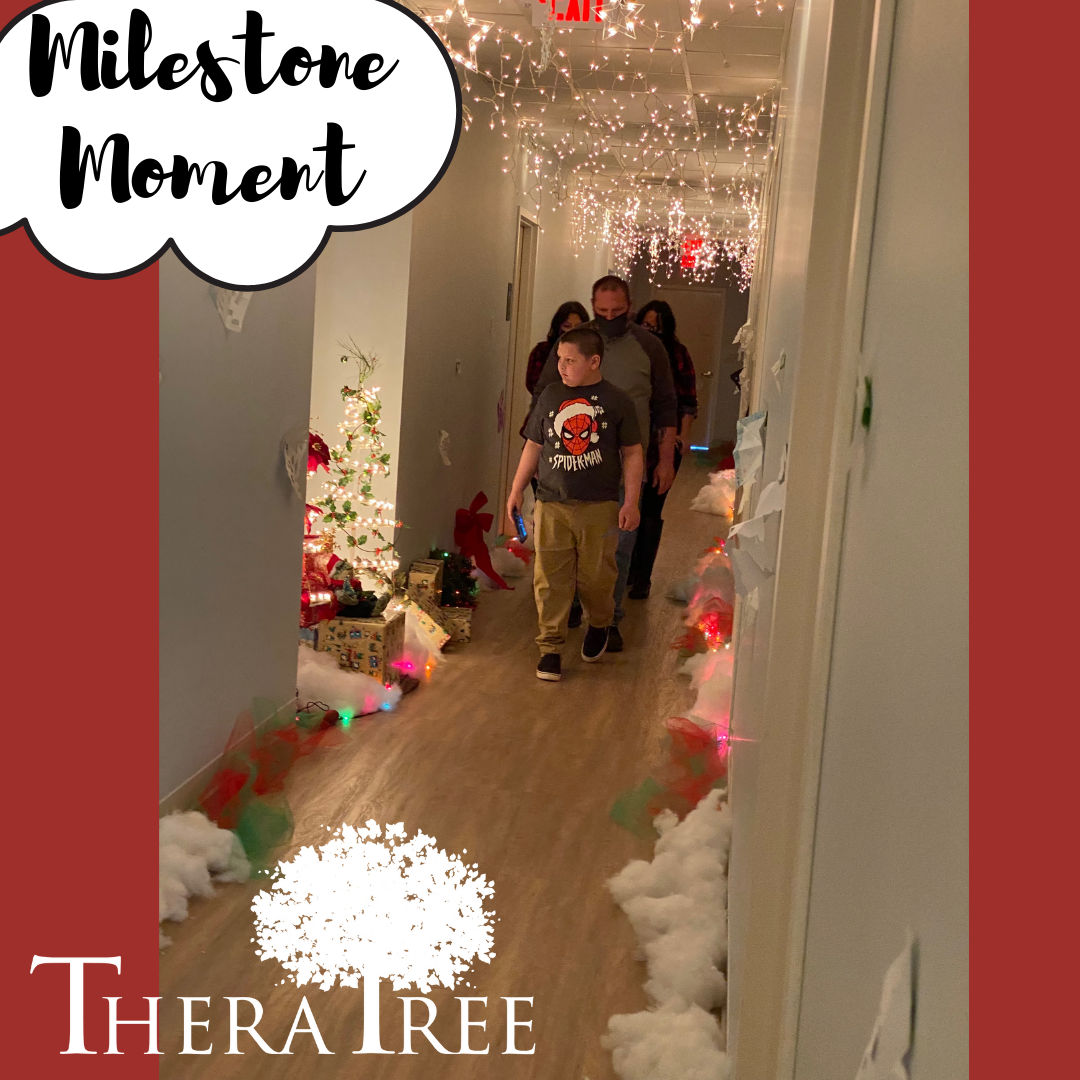 ⭐️Milestone Moment⭐️
This is a great milestone for Greyson Waters to come to the Sensitive Santa Experience! Greyson walked calmly and smiling down the hall way. He was able to wait his turn. He was also showing positive emotions. Great milestone for him and his family. They reported this a great day! We are so proud of you Greyson!!
✅ Does your child need help? Get help now:
🔗 https://bit.ly/TheraTreeNewPatient
📞💬 270-688-8449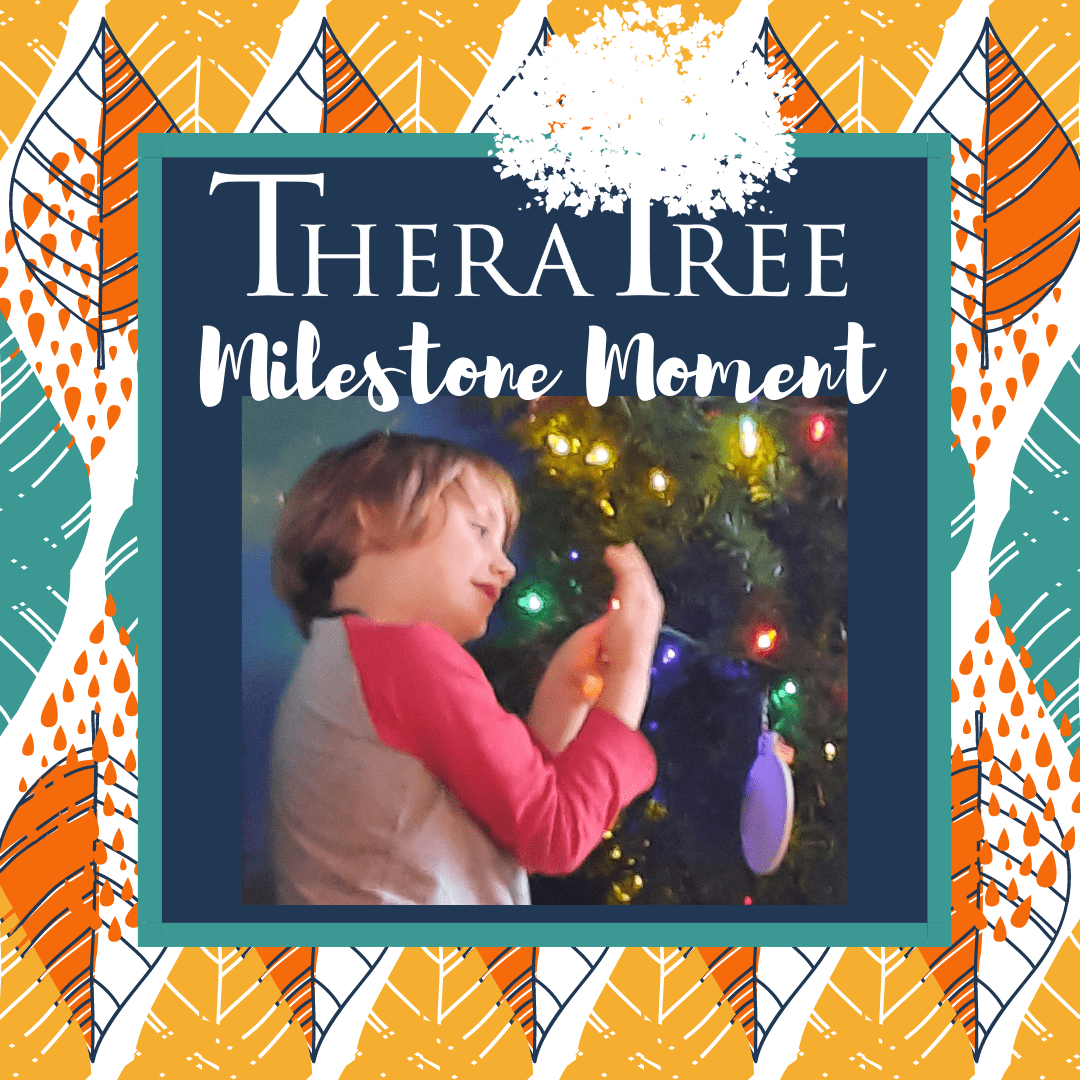 ⭐️ Milestone Moment ⭐️
Nicholas independently waited to open Christmas presents on Christmas day! Nicholas is currently working on waiting for preferred tasks and self-regulation skills in his OT sessions. In previous years, Nicholas' caregivers have had to wait to place presents under the tree until it was time to open them because Nicholas liked to open all of the presents ahead of time. This year, when Nicholas was the first to get up on Christmas morning, he took a present to mom eager to open it but was disappointed when she told him to wait. Despite being upset, Nicholas took the present back to the tree and waited for the others to get up on Christmas morning before opening his presents. We are so proud of you Nicholas!
✅ Does your child need help with patience? Get help now:
🔗 https://zurl.co/3Wgn
📞 270-688-8449📞 270-688-8449📞 270-688-8449

We periodically offer social skills groups to help children learn to have meaningful and mutually beneficial relationships with peers. We added communication skills, non-verbal body language, sharing, turn taking, and behavior throughout these groups. Many participants build lasting friendships during these groups!
Guest Experts
It Takes A Village
Learn how to build your village by choosing the right therapy provider for you! Raising children can be a challenge and it takes a lot of hands on deck with a lot of love. Do you know the right questions to ask to find a village that lifts you up?
Raising kids is tough. My grandmother always said "It Takes a Village" I never realized how true this statement was until I had children of my own. Now 6 kids later I can tell you one thing I wouldn't survive without my village. My village includes, family, friends, neighbors, teachers, doctors, and therapist. Have you ever thought about your village and who you considered your village? Join us June 15th and we are going to talk about that. Who is in your village and why. Occupational therapist Madeline will join us in discussion and we will share some of the things Occupational Therapy can do as part of your village. Parenting can be glorious, terrifying, infuriating and every other emotion you can possibly think of. Let's talk about it and discover more about your villagers.
Deadline to register: June 14th
The Simple Things "Will My Child Grow Out of It?"
Deadline to register: Thursday, April 15th, 2021

Have you ever looked at your child and thought; "I know this isn't normal but I am not sure what the problem is?" As a mother of six I, Heather can tell you I sure have. We where introduced to Occupational Therapy when our twins where 11 months old for developmental delays but there is so much more that Occupational Therapy can do for all ages.
Kailtlin is very passionate about Occupational Therapy and how it can improve quality of life and so much more. Kaitlin and I decided in honor of Occupational Therapy Month we wanted to host this seminar and title it "The Simple Things".
We will be exploring some of the things we as parents, grandparents, aunts, uncles, and other caregivers may have experienced but had no idea that Occupational Therapy could help these small little things. Some say "Oh, they will grow out of it." Why should they grow out of it when there are tools to help children progress to meet their potential and keep their mind, body, and spirit in a positive place?
Weighted Blanket Workshop
Learn the benefits of weighted blankets, how to use them, and make one yourself!
Kaitlin Alvey MS,OTR/L, TheraTree Clinical Manager and Occupational Therapist, leads this hybrid in-person and virtual workshop.
If you are making the blanket for someone specific you will need to know their weight as weighted blankets need to be 5 - 10% of the person weight.
A weighted blanket is similar to a regular blanket, but has small weighted material inside it. The blanket is a little heavy and applies a firm consistent pressure to the body that is underneath of it. Weighted blankets come in all sorts of sizes and textures.

Weighted blankets provide proprioceptive and tactile input. This input provides an organizing effect to the central nervous system and stimulate the release of neurotransmitters. This can be very calming and relaxing in general. It's also why weighted blankets can also be used to relax at any time, not just for sleep.
Virtual Supply List:
M

aterial for the outer blanket such as lightweight fleece or close weave polycotton such as bedding (duvets are great for this project).

Sewing machine (not a mini sewing machine)

Basic sewing kit, including scissors, pins and thread. The thread will show on your blanket on the stitching you use to create the pockets which distribute the weight evenly through your blanket so choose a colour that matches or contrasts your material colour

Aquarium Gravel or Plastic pellets to create the weight for your blanket. These are recommended for blankets and can be washed if needed.

Simple food scale for measuring weight.
Car Modification Workshop
Have you wondered how your vehicle might be modified to support your family's mobility needs or even what is out there to promote independence on the road? Well this is for you! We are so excited to welcome Paul Erway from Superior Van and Mobility! Paul sees the opportunity to help others faced with the same challenges he himself has experienced as a gratifying experience.

In 1980 Paul was involved in a life changing experience a freak automobile accident that left Paul paralyzed from the chest down. Despite being told by doctors he would never walk again, Paul didn't let that stop him from achieving great things. In fact Paul has not let much hold him back.

In 2013, Paul and two other individuals took on a huge challenge of the idea for 50/50/50 or 50 marathons in 50 states in 50 weeks a year long mission that involved a vast amount of support and personal dedication. The challenge was a way to create awareness of spinal cord research, raise funds for the Christopher and Dana Reeve Foundation, and at the same time help others with disabilities see through their challenges and focus on the clarity of living life to its fullest.

Signs Your Child May Respond to a Weighted Blanket:
Loves sleeping or laying under piles of blankets or heavy comforters.
Enjoys crawling into tight spaces or behind furniture
Has difficulty (even after a lot of physical activity) relaxing and sitting still
Likes wearing heavy sweatshirts and sweaters
Diagnoses and Symptoms:
• Autism
• Sensory Processing Disorder
• ADD/ADHD
• Anxiety
• Sleep difficulties
Virtual attendees will be responsible for obtaining their own supplies (see below).
In-Person attendees will need to follow our clinic's COVID procedures. Supplies for in-person attendees will be provided. Extra sewing machines are needed if you have one.
POSS[ABILITIES]

This program was established out of the need within the community for targeted summer programming for individuals with Autism spectrum disorders. The program is hosted three days per week from 8 a.m. to 12 p.m. for eight weeks. It is hosted at TheraTree, LLC in Owensboro and community setting. The first two days of the week will be hosted in the clinic and the third day will be in the community. The target of the program is to support growth from where we are at. Targeted areas will include social skills, regulation, life skills, community integration, and much more
Kaitlin Palmer is an occupational therapist who practices at TheraTree, LLC. She graduated from Eastern Kentucky University with a certification in working with individuals with Autism Spectrum Disorder. She has experience working summer camps in Louisville, KY as a head counselor for individuals with ASD. Additionally, she has implemented mentoring programming at the university level for individuals with disabilities. Kaitlin has a passion for creating and establishing programming for individuals with ASD to become more independent and participate in their community.
Fall Break Camp
Fall into Fun with Fall Break Camp!
Next Dates TBA

Social skills, craft, snack activity, and movement activity

Kids ages 4-12 years of age

Hosted at TheraTree, LLC
2605 New Hartford Road

$125 for all three Days

Our Spring Break camp is a fun and intensive experience where kids get to keep developing their skill set! Check back for upcoming dates.
This is an event to celebrate our current families.
Not receiving services with us yet? Not a problem! Come and get to know our staff over dinner with the whole family! Ask questions about how the referral process work.

Ask a staff member for a tour of the clinic to see where we work and play!
School Field Trips
TheraTree hosts school field trips for special education classrooms. Many classrooms have had to opportunity to engage in the sensory gym at TheraTree and sensorimotor activities to improve motor skills, attention, and address other aspects to learning.
Sensitive Easter Bunny
TheraTree provides an opportunity to schedule a private meeting with your family and the Easter Bunny. This a free event!
Please arrive at your scheduled time to complete a craft with our staff before seeing the Easter Bunny.
Siblings are welcome to join the fun! If multiple children are visiting, please sign each child up for a time slot.
Halloween Trunk or Treat
How it works:

Sign up for a time slot.

Costume it up!

Drive up to our office's sidewalk with your child or children.

Receive a TheraTree treat bag !
TheraTree continues to take COVID precautions. All treats will be non-food items. All event staff must pass a screening, wear a mask, gloves, and face shield.
#TrickorTreat with your family in a therapeutic environment! Open to the public and FREE event
Thanksgiving with TheraTree
Thanksgiving with TheraTree
Spend a thanksgiving dinner with our therapists and staff! We are so thankful for you and our Owensboro community. We look forward to seeing you next Thanksgiving!