Therapy Services
Occupational Therapy
Skills for Everyday Life!

In its simplest terms, occupational therapy providers help people over come the barriers of participating in the things they want and need to do in life through the therapeutic use of everyday activities (occupations). They look at what's the thing they need to do (self care skills, social skills, participation in school etc.) and what's keeping them from that (attention, sensory integration, motor skills etc). Treatment addresses both the underlying challenge and the functional skill.
Here are a few signs your child could benefit from Occupational Therapy:

Easily Distracted

Overly Sensitive to Touch, Movement, Sounds or Sights

Clumsy / Uncoordinated

Picky Eater

Difficulty Holding a Pencil or Handwriting (3+)

Poor Social Interaction

Inability to "Unwind" or "Self-Regulate" emotions
Speech Therapy
Talking, Understanding, & More!

On the surface level, the process of communicating seems very simple. However, it is actually a very complex process. Breakdowns can happen at many levels. When breakdowns happen, a child may have difficulty developing age appropriate speech or language skills. Often this causes children frustration and even sadness when they are not understood.
Speech Therapy can help children meet their age appropriate goals in the following areas:

Sound

Production

Language

Social Communication

Alternative and Augmentative Communication (AAC)




Fluency




Hearing/ Aural Rehabilitation




Cognitive




Voice

Swallowing and Feeding



Physical Therapy
Strength, Movement, & More!

Physical therapy helps children reach their maximum potential of movement, motor development, strength, and endurance.
Physical Therapy can help with:

Delays in development, such as walking without falling.
Movement and mobility

Motor and strength

developmental milestones.

Recovery from sports- and non-sports-related injuries
Posture, positioning, and lifting objects.
Muscle weakness or imbalances.
Nerve/muscle conditions, such as Cerebral Palsy.

Cardiopulmonary endurance.

Orthotics and prosthetics.
Feeding Therapy
Picky Eater or Problem Feeder?

Feeding therapy, is provided by a trained occupational or speech therapist to teach your child how to eat or eat better. During the evaluation process, we will discover your child's underlying issues to eating. This may be sensory, motor, or a combination of both.

Here are common reasons while children get feeding therapy:
Picky Eater
Difficulty Chewing
Gags
Chokes / Coughs while eating
Difficulty Swallowing
Poor Nutrition
Only eats one texture or food type
Poor self regulation at meal time
Behavioral Therapy
Flourishing in Life Through Participation

Applied Behavior Analysis (ABA) is a therapy based on the science of understanding and improving learning and behavior.
Behavior analysis helps us understand:
How behavior works
How behavior is affected by the environment
How learning takes place
The goal is to increase behaviors that are helpful and decrease behaviors that are harmful or affect learning.
ABA can help with the following difficulties:
Aggression
Self Injury
Tantrums and Outbursts
Decreased attention
Poor social skills
Poor memory
Challenges with academics
Mental Therapy
Experiencing a Life You Love!

Parenting is a hard job! TheraTree provides Mental Health Therapy (sometimes called Counseling) for both children and parents of children who receive any type of therapy at TheraTree. Mental Health Therapy is an ongoing, collaborative process. The therapist offers a safe space for a client to feel heard without judgement or criticism.
The client and therapist work together to:
Decrease Depression
Reduce Stress and Anxiety
Increase Self-Esteem and Self-Worth
Develop new and strengthen existing relationships
Discover inner strengths and abilities
Identify and process negative thoughts, feelings, and emotions
Regulate mood and express emotions appropriately
Better communicate personal wants and needs
Create new habits and routines that help to feel more productive and accomplished
Regain control of your life
Kendall completed a 24 piece puzzle and these four 8 piece puzzles independently! Way to go! Kendall is currently improving her visual perceptual and fine motor skills in occupational therapy. Each week, she shows progress towards meeting her goals because of the effort she puts into each telehealth session as well as her HEP. This milestone is evidence of that hard work! While at home, on her "off" day, Kendall was able to complete these puzzles all by herself. Mom and her were so excited that they had to email her therapist to share the good news. The TheraTree staff is so incredibly proud of you! Keep up the good work!
Milestone Moment!
Nicholas independently waited to open Christmas presents on Christmas day! Nicholas is currently working on waiting for preferred tasks and self-regulation skills in his OT sessions. In previous years, Nicholas' caregivers have had to wait to place presents under the tree until it was time to open them because Nicholas liked to open all of the presents ahead of time. This year, when Nicholas was the first to get up on Christmas morning, he took a present to mom eager to open it but was disappointed when she told him to wait. Despite being upset, Nicholas took the present back to the tree and waited for the others to get up on Christmas morning before opening his presents. We are so proud of you Nicholas!

Milestone Moment
Since October, Nick has been working on manual hand strengthening. His goal was to tolerate 10 minutes without any signs of fatigue. We worked towards this goal by sorting small objects with tongs, pulling squigz, manipulating theraputty, and working with nuts, bolts, and screws! Nick has completed this on 4 different occasions now! One time, he even hit 15 minutes. Great work, Nick!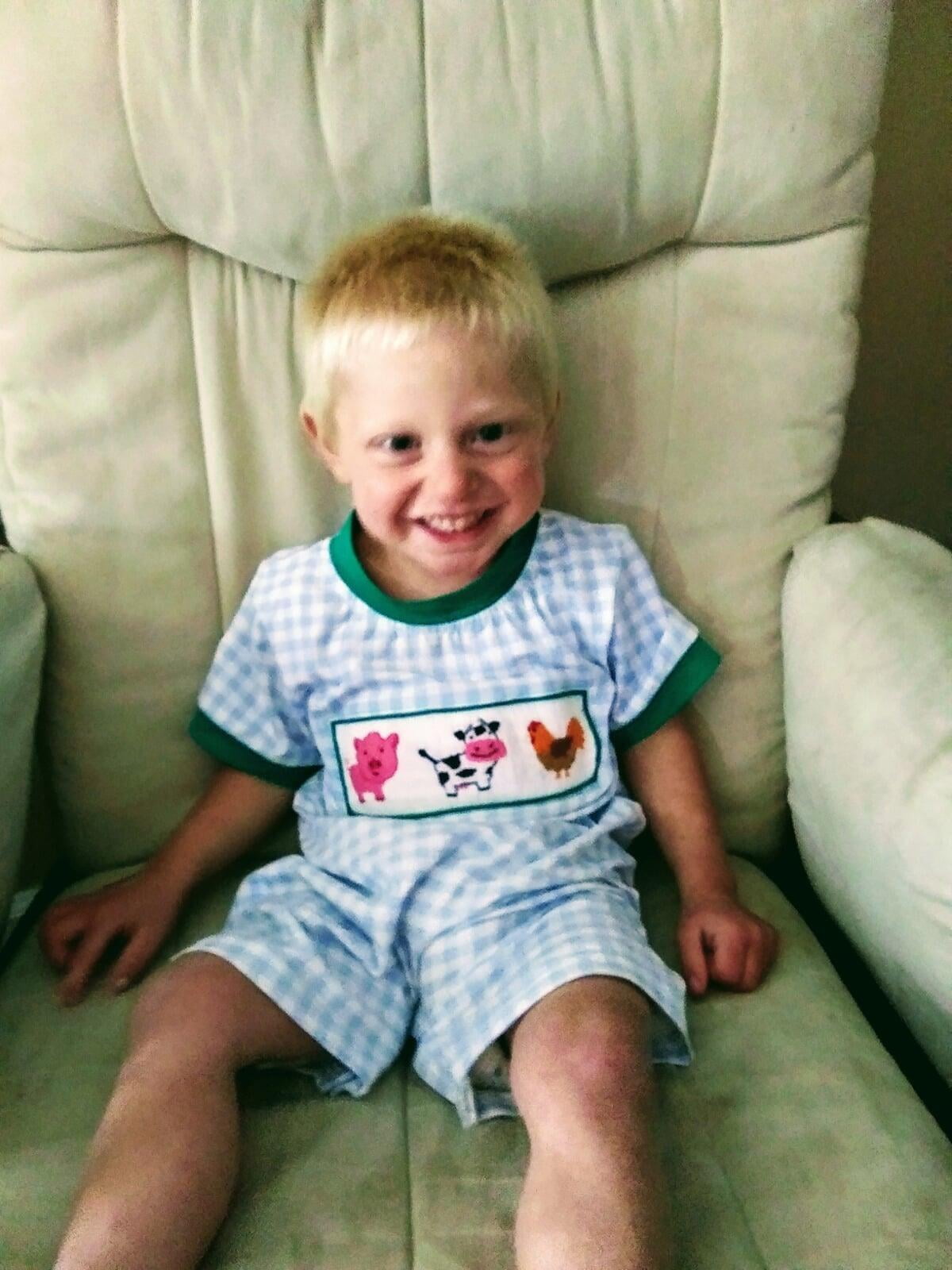 "Grant, 2 years old, has been receiving OT and Speech therapy services at Theratree for about a year and a half now. Kaitlin, OT, Toni, SLP, and Taylor, SLP, have worked with him regularly and I am pleased with his steady progress. Grant calms and focuses better when OT sensory techniques (such as vibrations and heavy work) are provided by a caregiver. Grant has a sensory diet, prescribed by his OT, so if activities are done daily, Grant has a better chance of self-regulating long-term, thus setting him up for success with new learning (post-anoxic brain injury). Speech therapists have encouraged his learning through play, singing songs, repetition and movements, as well as incorporating sensory techniques for increased focus and carryover of language development. Grant loves singing "Itsy bitsy spider" and "Daddy finger, Mommy finger…" Grant has decreased episodes of throwing his head back when upset, uses more words like "HELP" to express his needs and has improved self-feeding/drink"

Gannon struggles with social interactions, even communicating with family over facetime is hard for him. Since he was on the struggle bus today I was very worried that the session would not go so well. Toni and Kelly, you ladies killed it. Having the session on zoom made it much more interactive. The websites that you guys used this week were so fun, colorful and kept him interested. They kept me interested, and wanting to work more with him. We were able to test Gannon's knowledge and understanding of colors and numbers. It gave us all a real time assessment of what he can do and what he truly knows.
I know that these circumstances are horrible, but I love the fact that you are able to see him at home where he is more comfortable, and completely in his element. It shows you a different side of him and lets you get to know him and us more. I am blown away with all the hard work and dedication, you all ( the entire staff) are putting into making this (Telehealth) successful. It is because of this hard work and dedication that our family and other families like mine will succeed. This is uncharted territory and a challenge I am sure. Keep it up, you are all doing amazing, you are making a difference!!! April and Gannon
🌟Milestone Moment🌟
Dani achieved a HUGE milestone in occupational therapy! She completed the ENTIRE box of sorting bears, which has over 90 bears of various colors. She did this task with minimal redirections and no aversions. She stayed at the table for the entire task!
Dani used to really struggle with sorting. This task would become overwhelming for her, and would often lead to her avoiding the task or having a meltdown. Dani was able to utilize deep breaths and hand squeezes to stay calm and get the job done today! We are so, so proud of you Dani.
Keep working hard. You are going to do great things!

Join us on social media.... @TheraTreePeds