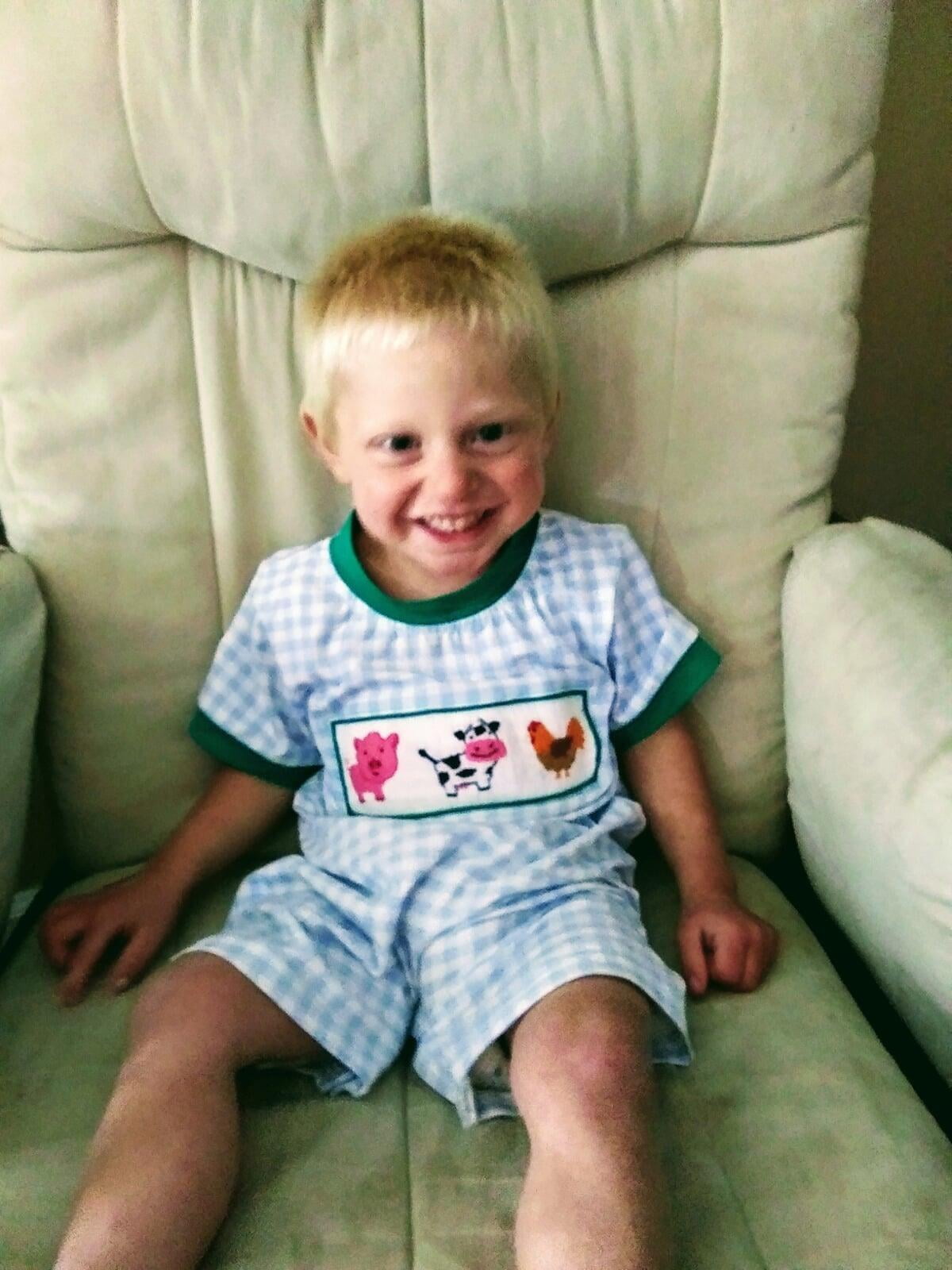 "Grant, 2 years old, has been receiving OT and Speech therapy services at Theratree for about a year and a half now. Kaitlin, OT, Toni, SLP, and Taylor, SLP, have worked with him regularly and I am pleased with his steady progress. Grant calms and focuses better when OT sensory techniques (such as vibrations and heavy work) are provided by a caregiver. Grant has a sensory diet, prescribed by his OT, so if activities are done daily, Grant has a better chance of self-regulating long-term, thus setting him up for success with new learning (post-anoxic brain injury). Speech therapists have encouraged his learning through play, singing songs, repetition and movements, as well as incorporating sensory techniques for increased focus and carryover of language development. Grant loves singing "Itsy bitsy spider" and "Daddy finger, Mommy finger…" Grant has decreased episodes of throwing his head back when upset, uses more words like "HELP" to express his needs and has improved self-feeding/drink"

Gannon struggles with social interactions, even communicating with family over facetime is hard for him. Since he was on the struggle bus today I was very worried that the session would not go so well. Toni and Kelly, you ladies killed it. Having the session on zoom made it much more interactive. The websites that you guys used this week were so fun, colorful and kept him interested. They kept me interested, and wanting to work more with him. We were able to test Gannon's knowledge and understanding of colors and numbers. It gave us all a real time assessment of what he can do and what he truly knows.
I know that these circumstances are horrible, but I love the fact that you are able to see him at home where he is more comfortable, and completely in his element. It shows you a different side of him and lets you get to know him and us more. I am blown away with all the hard work and dedication, you all ( the entire staff) are putting into making this (Telehealth) successful. It is because of this hard work and dedication that our family and other families like mine will succeed. This is uncharted territory and a challenge I am sure. Keep it up, you are all doing amazing, you are making a difference!!!
Battling the spread of COVID-19 has been difficult for everyone. Schools are closed, only essential employees are working, and the community is practically quarantined while practicing social distancing.For my autistic daughter this time has been especially difficult. Her routine has changed, she's stuck at home, and I have been terrified of regression.
With telehealth through Theratree my daughter is still able to receive her therapy are her normal time. I don't need to worry about regression because her therapist is working with her twice a week for an hour. Together they are able to work on tackling new obstacles that COVID has caused. Our therapist help enforce social distancing, and hygiene needs, along with her typical needs. They have even came up with exercises and activities for her to do to prevent regression and over stimulation.
In a month's time theratree has reshaped their entire company to address the needs of our children and has taken alot of stress and worry off of my shoulders. Everything Theratree does is uniquely designed around the needs of each child and family.
Theratree is a family and we are in this #Togetherapart.
Thank you Theratree for all you do.
I personally want to say how thankful I am for the speech therapy that my son Ledger Nix has been receiving before and during the Covid-19 outbreak. Ledger is only 3 and I was concerned about his speech once he started to try to speak and I as well as others couldn't necessarily understand him. He would get frustrated because he was trying so hard and knew what he was trying to say and we couldn't decipher most of it. He rocked it immediately and it's because of Mrs. Toni's patience and willingness to listen to my concerns. For only going 30 minutes a week, Ledger really picked up fast In my opinion.

When the office was closed down I was nervous at first about how the telehealth was going to work for him because of him being 3 and around his things to play with. I was afraid he wouldn't give his full attention and there have been times he hasn't, but I feel he's doing a lot better with his attention span and he focuses during the session because of his teacher!!! I feel he has grown even more now. He has hit several milestones and he tries super hard to master a word or sound. I am beyond grateful for this opportunity to improve my child's speech with the help of Mrs. Toni and TheraTree.

Thanks Again from the Nix family.
Telehealth has truly provided my 19 month old great help on learning new words. She started with maybe 1 or 2 words and now she has 8-9 mastered words and a few others she is starting to say! Telehealth has provided wonderful strategies for me to use at home, while having her therapist also be able to provide me feedback and also see my daughter in her home environment. If we didn't have telehealth with TheraTree we would not have the progress that we have today!

Bethany and Landry
Join us on social media.... @TheraTreePeds