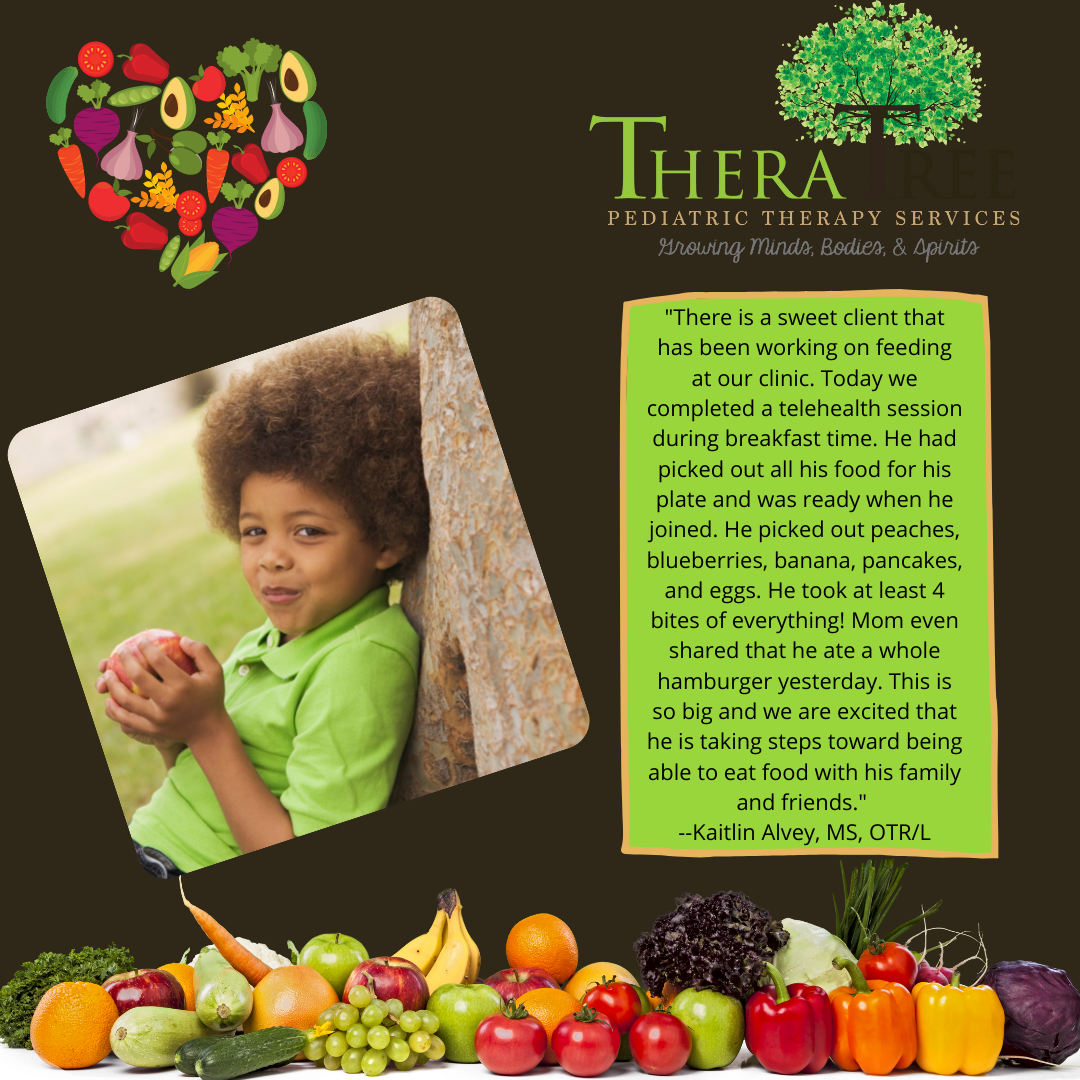 ⭐️Milestone Moment⭐️
"There is a sweet client that has been working on feeding at our clinic. Today we completed a telehealth session during breakfast time. He had picked out all his food for his plate and was ready when he joined. He picked out peaches, blueberries, banana, pancakes, and eggs. He took at least 4 bites of everything! Mom even shared that he ate a whole hamburger yesterday. This is so big and we are excited that he is taking steps toward being able to eat food with his family and friends."
--Kaitlin Alvey, MS, OTR/L

✅ Does your child need help with feeding? Get help now:
🔗 https://bit.ly/TheraTreeNewPatient
📞 270-688-8449
Telehealth is how we're helping families through COVID-19 and beyond. We rapidly implemented Telehealth as an option for all of the clients we serve. The therapeutic services we provide are vital for children's success in life. Our community, state, and country are experiencing extraordinary circumstances that create a barrier for children to participate in learning, development, and their community. These are circumstances that are unlikely to be resolved soon. During this time our families may be feeling a wide range of emotions. We're here and we're all in this together.

Who Pays for Telehealth:

Outpatient Setting:Kentucky Based Health Insurance Plan cover Telehealth.
This includes Medicaid, MCOS, and Private insurance.

Self funded and out of state plans may cover Telehealth; we can confirm with your insurance.

Some insurance companies are even waiving co-payments for Telehealth during COVID-19!

Green River Home Health: We have approval to provide Telehealth!
Ohio County Schools: The Kentucky School Board passed an emergency approval today (3/20/2020) to allow Telehealth as a delivery method for related services such as therapy!
It's important for you to know some information about Non-Traditional Instruction (NTI) as is relates to your child's IEP.Districts must provide IEP services during NTI days.

These services can be adapted to schoolwork packets, online learning, and other adaptions.

Telehealth is the ideal way to provide the required therapy services considering our typical in person delivery model is unavailable.

Technology & Other Requirements:
Access to high speed internet.

A computer or mobile device with a camera and mic.

Internet Access:

Spectrum is offering free internet services to families for 60 days. Call 1-855-243-8892 to set up service with a modem.

DMS has given permission for those without internet to use the telephone to access Telehealth services in response to COVID-19.

Social Stories: Click HERE to access.
Setting up Telehealth:

Set up your ClockTree Account. A link will be emailed upon transitioning to Telehealth.

Please set up your account as soon as possible to reduce technical difficulties.

This invitation may go to your spam folder, so check there!

Watch the orientation video about your first appointment: https://www.clocktree.com/api/1/notificationdocument/730139?content
After you set up your account, our client services department will then confirm your Telehealth appointment and you'll get an email notification for this.

You can access the Telehealth platform through the appointment confirmation or through this link: Access Telehealth Platform HERE.
Log in to your clock tree at least 8 minutes before your scheduled appointment on your device connected to the internet. ProTip: logging in on a mobile device creates endless movement options.
OT Evaluations through Telehealth:
Parents, if you have the following items in your home, please have them available during your evaluation. These items help us see they way your child can use these "tools" and will enhance the quality of our evaluation. If there are any items you don't have, it's ok, we can still complete your evaluation.

Pencil

Paper

Marker

Crayons

Scissors

Interlocking blocks

Stackable blocks

Puzzle

Favorite toy

Small items that are smaller than the child's hand (5)



Parent Testimonies

I am writing a testimonial about my sons telehealth experience with his therapist Jordan.
We started out working on his temperament. Jordan helped us with having Andy smack the walls or do jumping jacks, or run in place. His favorite is to hit the wall. He was head butting and smacking us and punching us in the face. So far he has not head butted or smacked us. He has good days and bad days just like any toddler where sometimes he doesn't like to sit and do therapy in front of the computer. Other days he does fine. He loves doing sensory therapy and bins with Jordan especially his favorite is play dough. Jordan has him make something and have mimic what she creates. He highly enjoys that.

Jordan also gave us tips and tricks on how to do his mouth and motor skill therapy. By using simple gestures near and around his mouth to help cope with his chewing. She also gave us great advice on chewy tubes since he loves to chew on stuffed animals. We have narrowed it down to two this week and got rid of all the others. He wears his chewy tube necklaces playing around the house or if we leave to go somewhere. Overall he is having a great experience and we have seen a definite change. Andy is very hyper its just a slow process to have him sit still and complete his therapy each time but we can see a change that is getting better. Even though he is still a toddler and has his hyper and anger moments throughout the week he is definitely improving due to Jordan and telehealth.
Battling the spread of COVID-19 has been difficult for everyone. Schools are closed, only essential employees are working, and the community is practically quarantined while practicing social distancing.
For my autistic daughter this time has been especially difficult. Her routine has changed, she's stuck at home, and I have been terrified of regression.
With telehealth through Theratree my daughter is still able to receive her therapy are her normal time. I don't need to worry about regression because her therapist is working with her twice a week for an hour. Together they are able to work on tackling new obstacles that COVID has caused. Our therapist help enforce social distancing, and hygiene needs, along with her typical needs. They have even came up with exercises and activities for her to do to prevent regression and over stimulation.
In a month's time theratree has reshaped their entire company to address the needs of our children and has taken alot of stress and worry off of my shoulders. Everything Theratree does is uniquely designed around the needs of each child and family.
Theratree is a family and we are in this #Togetherapart.
Thank you Theratree for all you do.
Gannon struggles with social interactions, even communicating with family over facetime is hard for him. Since he was on the struggle bus today I was very worried that the session would not go so well.
Toni and Kelly, you ladies killed it. Having the session on zoom made it much more interactive. The websites that you guys used this week were so fun, colorful and kept him interested. They kept me interested, and wanting to work more with him. We were able to test Gannon's knowledge and understanding of colors and numbers. It gave us all a real time assessment of what he can do and what he truly knows.
I know that these circumstances are horrible, but I love the fact that you are able to see him at home where he is more comfortable, and completely in his element. It shows you a different side of him and lets you get to know him and us more. I am blown away with all the hard work and dedication, you all ( the entire staff) are putting into making this (Telehealth) successful. It is because of this hard work and dedication that our family and other families like mine will succeed. This is uncharted territory and a challenge I am sure. Keep it up, you are all doing amazing, you are making a difference!!!
We are so thankful for you!

I love using Telehealth and getting to be a part of therapy sessions! It helps to enhance Skyler's progress during a difficult time by allowing me to continue working on the same skills with the same materials! As a teacher myself, I know the importance of working together and this has let me continue to work with the amazing therapists we have been blessed with! #teamskylersaurus


Jamie, mother of Skyler
We are so grateful to be able to continue Zion's therapy sessions with Mr. Dale through Telehealth! Telehealth has allowed me to be more hands on, ask questions, learn techniques, and continue helping Zion reach Occupational goals and skills at home. It's been really amazing seeing Zion continue to make improvements, and doing things that I've never seen him do before!
We love the new Telehealth Occupational Therapy sessions with Mr. Dale! Wyatt always looks forward to them and enjoys the crafts that they make together. It gives Wyatt a sense of independence when he gets on the computer and has his sessions. He has also enjoyed being able to show Mr. Dale his room and around the house. He thought it was so cool!

-Wyatt's Mom
Blaine absolutely loves going to Theratree, especially the gym. I'm sure he misses that part but I'm so glad we have been able to improvise and continue working on his goals from home during this difficult time. We have gotten so many great ideas through telehealth to incorporate at home. We're definitely ready to get back to normal but I couldn't be more pleased with the telehealth services as an alternative.
Blaine Robert's Mom
What a HUGE success this week has been with OT! Gannon met not one, not two, but THREE goals! He continues to work hard everyday and today he showed exactly what he is capable of. I am so proud of him! It is truly a blessing to see just how far he has come.

I can not thank Shante enough for stepping in and through telehealth continuing his care with so much love and support. I am grateful for these sessions and all the hard work you put into this. Telehealth has allowed me to be even more hands on, to ask questions, to learn new techniques, and to continue teaching new skills at home.

These circumstances are not easy. It is because of OT's like Shante, ALL of the staff at Theratree, and the dedication of parents/caregivers that these children, like mine, will succeed.

Keep up the great work and stay safe, April and Gannon.
Once we got everything figured out, it's been really easy. I'm able to keep up with the appointments with appointment reminders and syncing up with my son's therapist is really easy. They send a link to my email, I click the link and it directs me to the meeting room. Now if I can just convince my father-in-law to let me pay him for the extra data on the internet plan we'll be golden! The activities during the sessions are fun and engaging, my younger son even joins in.
- from Nolan Matthews's Mom