🎓Therapy Graduation 🎓
Allie graduated from occupational therapy at TheraTree!! She did so great meeting all her goals to wear new clothes, notice emotions, and respond with her strategies. Her mom and her worked so hard in making things work at home. Allie was so fun to work with and loves to move! We love you Allie and good luck in all your future adventures!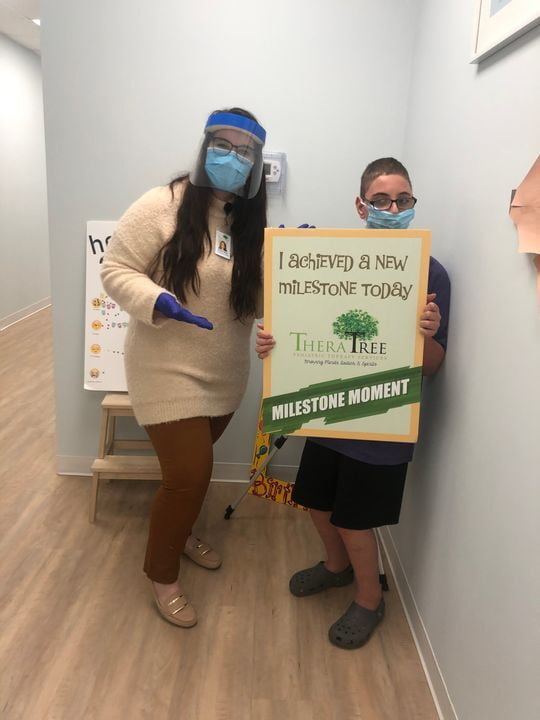 Milestone Moment
Nick has been working on his executive functioning skills during his occupational therapy sessions with Ms. Kaitlin K. They have been working on prioritizing tasks and planning out his weekly schedule. Nick demonstrated improvements with organization. He came prepared for their OT session with a to-do list in hand, and he managed to fit all of those tasks into his weekly schedule! In addition, Nick demonstrated improved organization skills and followed the schedule that they constructed last week. When something unexpected came up, Nick rearranged his schedule independently. He met all of his deadlines last week and has been feeling less stressed! We are very proud of you, Nick! Keep up the good work!

"We LOVE TheraTree! Ms. Neal has been nothing but great to Lila! Lila absolutely loves Ms Neal. We've been going for near a year now & I've seen so much progress in Lila & I can't wait to see the growth she continues to make as we continue to go here!"

My child began Theratree a year ago after being dismissed from services due to not progressing and that was a blessing in disguise! The entire Theratree staff, Jordan, Neal, and Toni has made a huge positive impact on my child's life! They are always encouraging and exceeding beyond from speech to OT, sensory and behavior needs. Theratree truly cares for my child and devote themselves to my child needs as well hear my concerns and educates for home care needs! My child was completely nonverbal and now communicates using sign language/verbally communicate and express sensory needs. They are continuing working and pushing my child to learn greater! Theratree has been such a positive experience for my child! Always Great! Staff is always very friendly! It's amazing to see the compassion each staff member has for their clients! You definitely won't regret choosing TheraTree!
The Hoge Family

Battling the spread of COVID-19 has been difficult for everyone. Schools are closed, only essential employees are working, and the community is practically quarantined while practicing social distancing.For my autistic daughter this time has been especially difficult. Her routine has changed, she's stuck at home, and I have been terrified of regression.
With telehealth through Theratree my daughter is still able to receive her therapy are her normal time. I don't need to worry about regression because her therapist is working with her twice a week for an hour. Together they are able to work on tackling new obstacles that COVID has caused. Our therapist help enforce social distancing, and hygiene needs, along with her typical needs. They have even came up with exercises and activities for her to do to prevent regression and over stimulation.
In a month's time theratree has reshaped their entire company to address the needs of our children and has taken alot of stress and worry off of my shoulders. Everything Theratree does is uniquely designed around the needs of each child and family.
Theratree is a family and we are in this #Togetherapart.
Thank you Theratree for all you do.
Telehealth has truly provided my 19 month old great help on learning new words. She started with maybe 1 or 2 words and now she has 8-9 mastered words and a few others she is starting to say! Telehealth has provided wonderful strategies for me to use at home, while having her therapist also be able to provide me feedback and also see my daughter in her home environment. If we didn't have telehealth with TheraTree we would not have the progress that we have today!

Dear TheraTree, We have been using your services for a couple of years now and I would like to say that Ms. Tara is an exceptional therapist. She has been outstanding during this time of communicating via email, text, and telehealth. From the beginning Tara has listened and adjusted to Rocky's needs. We have worked together to progress his therapy into results. Tara has provided great resources and ideas including videos, print outs for tracing and cutting practices, and activities such as flashcards. She is a great benefit to your company and her patients, especially Rocky.
I couldn't be more grateful for the stability that our weekly TheraTree appointments have provided during the unpredictable ups and downs of 2020 and beyond. The quick adaptation toward telehealth has given us a solid touch point in our week that we could count on when everything else was cancelled! It made a world of difference for Evan to have a safe space to share whatever was on his mind and to work through the challenges the year brought. I have continued to be impressed with the professionalism of Evan's therapists. They are clearly very well trained in how to engage with kiddos who aren't sure how to express their struggles and frustrations. They continue to bring varied activities to the online sessions even after a year. Evan's interactions with TheraTree have always been positive. I sincerely believe his therapy sessions have helped him to identify, express, and deal with social, emotional, academic, and even physical frustrations. We are thankful to have access to services.

Prior to starting speech therapy we had tried occupational therapy to see if it would help with some of Bristols anxious habits we were seeing form. I had addressed the issue with her pediatrician and occupational therapy was what he thought may help. While trying OT, she met her goals quickly and with ease. It was at this time that I was also really beginning to notice some speech issues that I was concerned with for her age. There was a speech evaluation available and I set up the appointment and I am so glad I did. Where Bristol was meeting her goals with OT her anxious habits were still an issue. Once we had the evaluation we started seeing Ms. Neal to help improve Bristols speech. Since being in speech therapy Bristol is now speaking so much better and to where others can understand more of what she says compared to before we began. While I am so proud of her improvements I am also so glad to say that her confidence has grown! She now doesn't seem as anxious and has left some of those habits behind. I without a doubt feel like her ability to communicate better with others has helped her be more confident in her self and allows her to not be so afraid or quiet when around peers and adults. I am so grateful for the work and dedication that TheraTree and Ms. Neal has given to my daughter!

We are so proud of you Cody! Cody had a milestone moment this past weekend riding his bike. You worked hard and we are so proud of you. 🌟🌟🌟👏❤️





Your child having obstacles with daily activities? Please take advantage our our free developmental check

https://zurl.co/FtMf
Judson GRADUATED from Occupational Therapy! He has met all of his therapy goals. Judson has worked super hard on upper extremity strength, fine motor skills, balance, and self-regulation during his time here at TheraTree. He achieved his goals both through telehealth sessions and in-person at the clinic! Judson has worked so hard during his sessions- We are thrilled to share his success!
Henry has been working towards forming diagonal lines and crosses from one visual cue. These pre-writing strokes are important for developing our handwriting skills!
Henry showed excellent improvements with these
. Let's show his some praise for his hard work!
Tristan met his goal of tying his shoes independently. What a huge accomplishment! When Tristan started occupational therapy at TheraTree, his fine motor skills made tying shoes difficult which often resulted in him getting mad and trying to give up. After strengthening his hands, practicing tying laces on and off his feet, and persevering when it got tough, Tristan is now able to tie his shoes on his feet during sessions and even at home! He even waited to show off his celebration dance until he was fully confident in his shoe tying abilities. Never give up Tristan, you are doing awesome!

Congratulations Natalie for meeting all of your goals and graduating #OccupationalTherapy!🌟 We are so proud of your hard work and progress! ✨

Maggie reached her goal! Maggie's goal was to complete interoception awareness activities with 60% accuracy on 3/4 trials. Interoception is defined as the perception of sensations from inside the body. Maggie has been practicing labeling how her body feels during different emotions. She has been averaging approximately 80% accuracy on 3/4 trials for 3 weeks in a row. Most recently, she achieved 4/4 trials! Way to go, Maggie!
"Grant, 2 years old, has been receiving OT and Speech therapy services at Theratree for about a year and a half now. Kaitlin, OT, Toni, SLP, and Taylor, SLP, have worked with him regularly and I am pleased with his steady progress. Grant calms and focuses better when OT sensory techniques (such as vibrations and heavy work) are provided by a caregiver. Grant has a sensory diet, prescribed by his OT, so if activities are done daily, Grant has a better chance of self-regulating long-term, thus setting him up for success with new learning (post-anoxic brain injury). Speech therapists have encouraged his learning through play, singing songs, repetition and movements, as well as incorporating sensory techniques for increased focus and carryover of language development. Grant loves singing "Itsy bitsy spider" and "Daddy finger, Mommy finger…" Grant has decreased episodes of throwing his head back when upset, uses more words like "HELP" to express his needs and has improved self-feeding/drink"

I just wanted you to know that I am noticing my child is using the techniques you are teaching him for fluency and they are helping. I asked him if he thought ST was helping and he said YES! He said just what he has learned after 2 sessions has helped a bunch! He said he had been able to get through a few of the phone calls at work that previously he had not been able to do due to the stuttering. Thank you so much!

I personally want to say how thankful I am for the speech therapy that my son Ledger Nix has been receiving before and during the Covid-19 outbreak. Ledger is only 3 and I was concerned about his speech once he started to try to speak and I as well as others couldn't necessarily understand him. He would get frustrated because he was trying so hard and knew what he was trying to say and we couldn't decipher most of it. He rocked it immediately and it's because of Mrs. Toni's patience and willingness to listen to my concerns. For only going 30 minutes a week, Ledger really picked up fast In my opinion.

When the office was closed down I was nervous at first about how the telehealth was going to work for him because of him being 3 and around his things to play with. I was afraid he wouldn't give his full attention and there have been times he hasn't, but I feel he's doing a lot better with his attention span and he focuses during the session because of his teacher!!! I feel he has grown even more now. He has hit several milestones and he tries super hard to master a word or sound. I am beyond grateful for this opportunity to improve my child's speech with the help of Mrs. Toni and TheraTree.

Thanks Again from the Nix family.
Gannon struggles with social interactions, even communicating with family over facetime is hard for him. Since he was on the struggle bus today I was very worried that the session would not go so well. Toni and Kelly, you ladies killed it. Having the session on zoom made it much more interactive. The websites that you guys used this week were so fun, colorful and kept him interested. They kept me interested, and wanting to work more with him. We were able to test Gannon's knowledge and understanding of colors and numbers. It gave us all a real time assessment of what he can do and what he truly knows.
I know that these circumstances are horrible, but I love the fact that you are able to see him at home where he is more comfortable, and completely in his element. It shows you a different side of him and lets you get to know him and us more. I am blown away with all the hard work and dedication, you all ( the entire staff) are putting into making this (Telehealth) successful. It is because of this hard work and dedication that our family and other families like mine will succeed. This is uncharted territory and a challenge I am sure. Keep it up, you are all doing amazing, you are making a difference!!!
Jennifer Hurm, mother of Kaylin and Carye
Being a homeschool mom comes with abundant joy! It can also include considerable challenges, especially when your children face delays and hardships. For most of our first grade year my twins struggled in many areas of learning, focus, and development. Most of our days were long and often not without tears. Sometimes even Mom had tears. I knew in my heart that I had been lead to homeschool. I also knew I would never give up. I believe this is the only option for our family.


In March I reached out to our pediatrician. After our audiology test showed hearing sensitivities we were referred to Lynn OT. It was here we met Jessica Lynn.
When our evaluations showed many areas that needed work, we began our OT journey with biweekly sessions. All sessions were different. I soon noticed small improvements in various areas. I attended every session and used many techniques learned from Jessica in out home environment as well. My girls enjoy OT and adore "Ms. Jessica".

Now, fast forward 5 months.... In August we started second grade. I had been anxiously awaiting school starting to see how much improvement OT provided us. In my eyes this was our "test". It only took one day for me to be amazed at how far we've come! We now have better focus, which results in joyful learning and we even look forward to school everyday. We also have better motor control and more balancing ability. Our language and communications has even improved. Homeschool is finally what I had long envisioned it to be.It's a pure joy and very rewarding experience.

Jessica is always wonderful with my girls. She also is helpful to me. No amount of questions on my behalf has ever been "too" much for her. She cares about her patients immensely. She is patient, hard working, driven, knowledgeable, and has a passion for her job.

All the other staff at Lynn OT has always been pleasant to work with as well. From the rare "substitute" to the insurance processing staff, all go above and beyond in their job!
My family will forever be indebted to Jessica and Lynn OT for the investment in my girls' futures. They really do make futures brighter one child at a time!
---
Tammy Wathen, mother of Aaron
I met Dale Lynn in 1999. He has worked with 2 of my boys. Currently working with my son Aaron and has since he was a toddler. Aaron is 10 now. Such a great impact has been made in Aaron's life from what he has learned through therapy with Mr. Dale. Aaron was able to receive an Ambucs trike and there was never a hesitation of it being approved for his use through his OT. Dale went beyond his therapy and assembled the trike for Aaron, sent pictures while he was assembling it and also delivered it to our home. I believe any therapist that works at Lynn Occupational Therapy truly does it for the love of children. Your child will never be a number but, loved and helped. Parents will get great input and any support they can help you with. Aaron has been introduced to many calming and coping techniques. Sensory, vestibular, gravitational insecurity help, fine motor, (love brush therapy) thanks for teaching that and joint compression techniques writing,sensory room,etc...I could go on and on because he is so special for my son and our family and to other families. Thanks Dale Lynn for loving and helping children.

---
Melissa Bellows, mother of Samantha
My daughter started working with Dale over three years ago because I was concerned about her ADHD and fine motor skills. He tested her and began working with her while she was in Head Start. Soon after, Candi took his place and my daughter loves her. They do puzzles, color, games, paint, cut, shoe tying and much more. Not only are fine motor skills being worked on, but her attention skills are too. I am able to call her OT for any concerns or problems that I may have. An example was when I was concerned about her sensory problems so a sensory profile was done on her. They helped my daughter get over most of her sensory disorders by showing me techniques to work with her on and they gave me a sensory brush to use on her body. I am very pleased with this company. She feels welcome and the therapist are always positive with the children and the parents. Thank you for all you do for Samantha, we love this company.
What a HUGE success this week has been with OT! Gannon met not one, not two, but THREE goals! He continues to work hard everyday and today he showed exactly what he is capable of. I am so proud of him! It is truly a blessing to see just how far he has come.

I can not thank Shante enough for stepping in and through telehealth continuing his care with so much love and support. I am grateful for these sessions and all the hard work you put into this. Telehealth has allowed me to be even more hands on, to ask questions, to learn new techniques, and to continue teaching new skills at home.

These circumstances are not easy. It is because of OT's like Shante, ALL of the staff at Theratree, and the dedication of parents/caregivers that these children, like mine, will succeed.

Keep up the great work and stay safe,

April and Gannon.

Our daughter has improved so much with understanding and regulating her emotions and knowing when she's approaching sensory overload. She knows her triggers and can tell us when she needs a break. As a family, we have learned so many tools to help her! OT has greatly improved her struggles with sensory processing disorder.
I first began working with Dale in the school system in 2007. From the very beginning I new he had a passion and love for kids and their success that is very rare. He has always gone above and beyond for us. He is determined to see kids succeed, no matter what it takes. Anytime I need help with anything he is happy to help me. Several times on his days off, he has come to help us with tasks that aren't even his responsibility. That's just the kind of special person he is. Not only does he have a love for the kids, the kids have a love for him. They meet him at the door each week. If you have a child who needs help with fine motor abilities, sensory issues, attention span, communication devices, behaviors, adaptive skills, functional abilities, social skills, (the list goes on and on), Dale can help. Nothing is too much of a task for him. Just recently, Dale helped me program a communication device and fixed parts on a wheel chair for me that I couldn't wait to have fixed by the technician. He truly is a jack of all trades. I have also had the pleasure of working with Dales assistants, and I can say after working with them that he does a great job of picking individuals to work for him. Their character and love for the kids is very genuine. My students enjoy working with them, and look forward to Thursdays when it is OT day.I am so glad I am able to work alongside him and his assistants. They change lives, and I am so blessed to have the opportunity to see it happen firsthand.

---
Kyle Hall, Elementary School Teacher
After several months of scrambling for the words to describe Lynn Occupational Therapy, I realized that my words couldn't express how AWESOME Lynn's Occupational Therapy is, so I asked my students.
When presented with the question, what do you like about Mr. Dale? One of my Third Grader grade students replied,
"He likes to have fun. "
"I love Mr. Dale"
"He helps people who needs help"
I asked a Second Grader, What do you like about Mrs. Jessica? He replied,
"Her is nice."
"Her likes to work puzzles."
"Her plays games."
When I went to visit Lynn Occupational Therapy outpatient clinic, I was overwhelmed by how friendly the staff was, and by the amount of techniques,teaching methods, and technology that Lynn OT utilizes. I recall one enthusiastic client expressing his excitement for the sensory playground and the Brian Gym activities. If your looking for services that put the client's needs first, and handles every case with excitement and professionalism than Lynn Occupational Therapy is for you. In short this teacher gives Lynn Occupational Therapy an A+!