#SucessStory: Cody met his goal of brushing his teeth within 5 minutes of being cued with minimal aversions. This is awesome! Cody used to be unwilling to hold a toothbrush. He would stall and spend several moments playing in the bathroom before he would attempt to initiate the task. Lately, he has been brushing his teeth within 2 minutes of being asked, and he has shown increased skill with the task- he now covers all areas of his mouth. Keep up the good work, Cody!
New Patients
Could your child benefit from therapy? Here's what you need to know...
The purpose of an evaluation is to gain specific information about the child's current skills and abilities. An evaluation will give a more precise measure of how your child statistically compares to their peer. Evaluations are essential in developing goals and a treatment plan for therapeutic intervention.
What is an Evaluation:

Evaluations are a more formal and detailed assessments.

Involves reviewing and studying the developmental history of the child.

Will involve standardized testing when possible.


Evaluations typically take an hour.

Includes a parent interview for a comprehensive list of concerns.

May include more detailed questionnaires about your child's abilities at home.

Is a billable services which

is covered by many health insurance plans. We accept all major commercial/private insurances, Medicaid, and MCOs.
Insurance & Payment Options
Ready now?
Complete the information below:
#SuccessStory
Joshua graduated from occupational therapy at TheraTree! He has been working so hard with mom on moving, rolling, and tracking toys. He is having so much playing and we are so proud of all your growth!

After submitting the referral form above, you can speed up your child's new patient process by completing the intake paperwork now: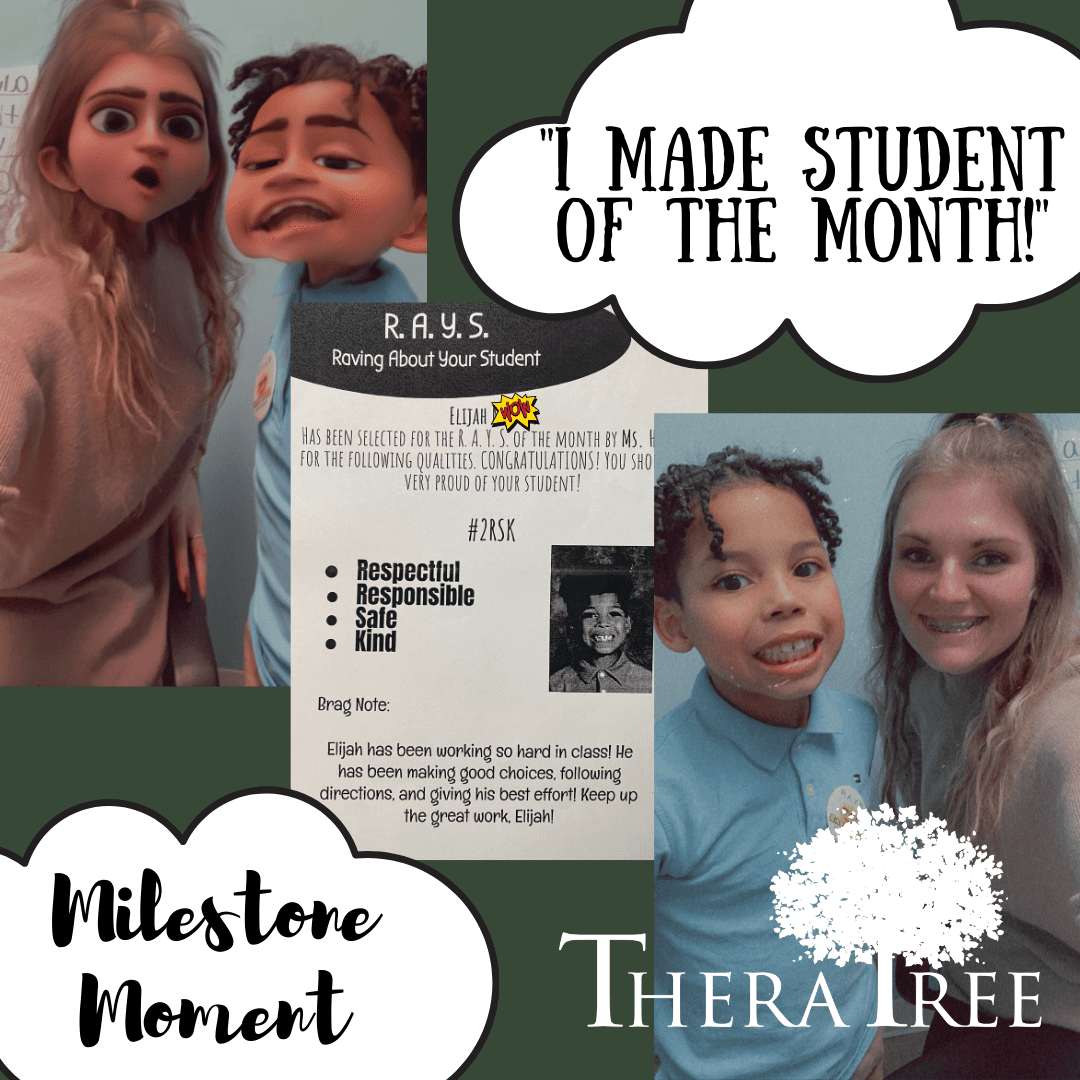 Mrs. Arrielle has been working with Elijah for several months. When Elijah came to TheraTree, he struggled with staying on task, completing tasks, following instructions, etc., at school and at home. Each week, Mrs. Arrielle finds different activities to work through with Elijah and while there have been several bumps in the road; Elijah has continued to grow in his willingness to learn and his willingness to listen. Elijah has also grown significantly through his sense of self-worth, which has grown his confidence in his ability to complete tasks. Mrs. Arrielle knows that Elijah is capable of so much more so, she has continued to push him everyday. Today Mrs. Arrielle's unwillingness to give up and dedication has paid off. Elijah came in for his session today, excited to tell Mrs. Arrielle that he was awarded STUDENT OF THE MONTH!! Mrs. Arrielle and the TheraTree team are ecstatic with his progress and his growth is a testament to the work we do here in the ABA program! ☺️

Referral Process: Parents can begin the referral process by completing the patient referral (first tab) OR call us to see if your child will benefit from therapy OR requesting a referral to TheraTree from your pediatrician. We will then request a Physician order if they haven't faxed one to us yet.
Scheduling. Our patient intake specialist will schedule an evaluation with you and you may call us at (270) 688-8449. We understand you reason for getting an evaluation is important and try to schedule as little as within a week.
Paperwork. All legal guardians must complete ouromplete our intake paperwork as soon as possible. We request to have all intake information submitted at least 24 hours before the evaluation. Your information helps us prepare for you evaluation.

The day of your Evaluation:
Telehealth Evaluations:
Log into your Parent portal (or click the email link) and orient yourself 15 minutes before your appointment. For OT evaluations please have the following supplies on hand. These items help us see they way your child can use these "tools" and will enhance the quality of our evaluation. If there are any items you don't have, it's ok, we can still complete your evaluation.

Pencil

Paper

Marker

Crayons

Scissors

Interlocking blocks

Stackable blocks

Puzzle

Favorite toy

Small items that are smaller than the child's hand (5)
In-person Evaluations:
Arrive to your evaluation appointment at least 15 minutes early. This will allow us time to collect information such as your insurance card. If you have not completed in the evaluation packet, please arrive 30 minutes early.

Note: Please respect your scheduled appointment time. Our highly skilled therapists have busy schedules and must complete critical observations and assessments with your child, which typically take the entire allotted time. Without this, your child may not qualify for services.
If you are running late, please call us and let us know. Depending on how late you're running and our schedule, there may be a need to entirely reschedule the appointment.
If you need to cancel, please do so at least 24 hours before your appointment or with as much advanced notice as possible. Advanced notice allows us the time to see another patient during that time and help more families.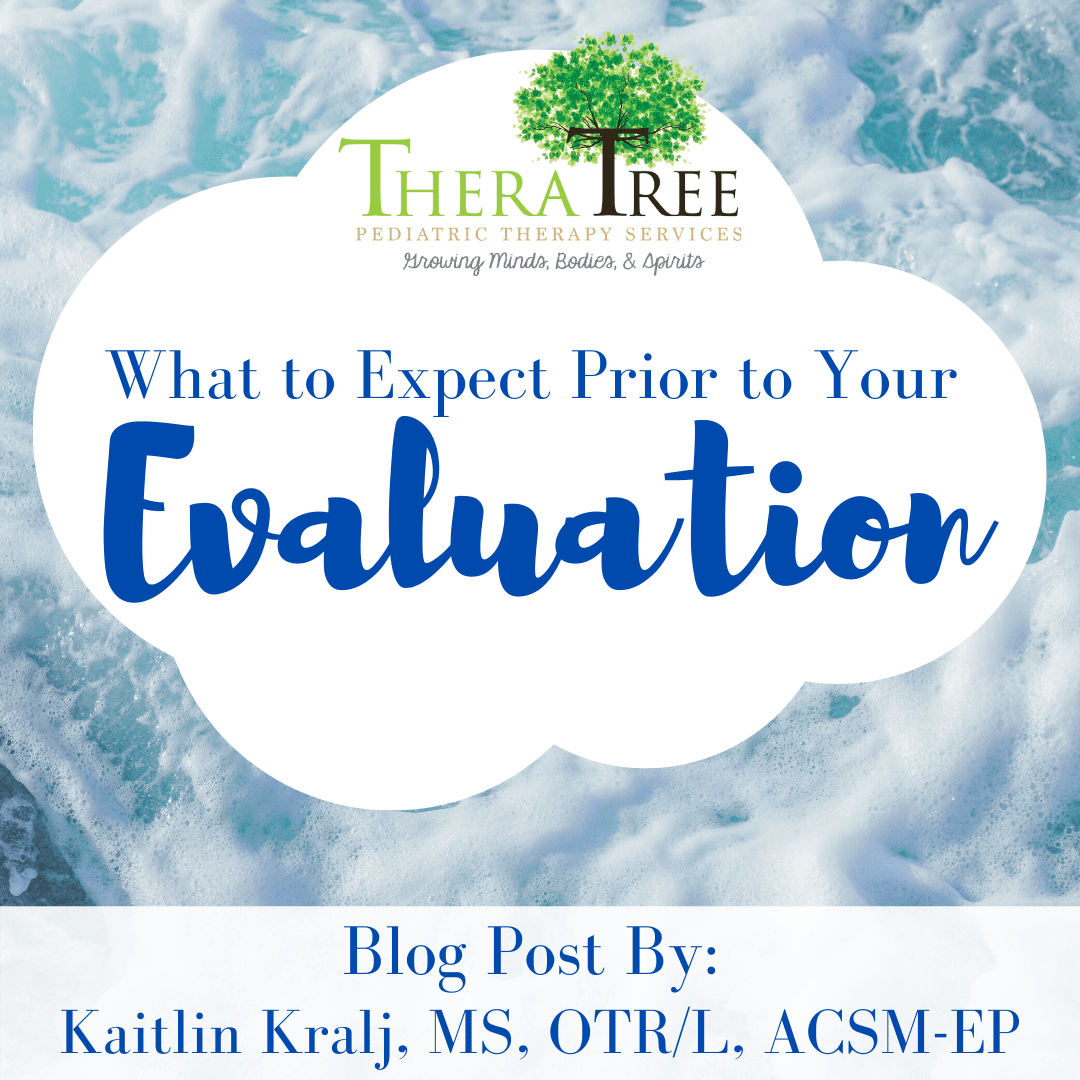 Blog: What to Expect Prior to Your Evaluation
Learn more about our clinic, why to evaluate, our intake paperwork, insurance verification, what happens when you arrive at your evaluation and about making progress!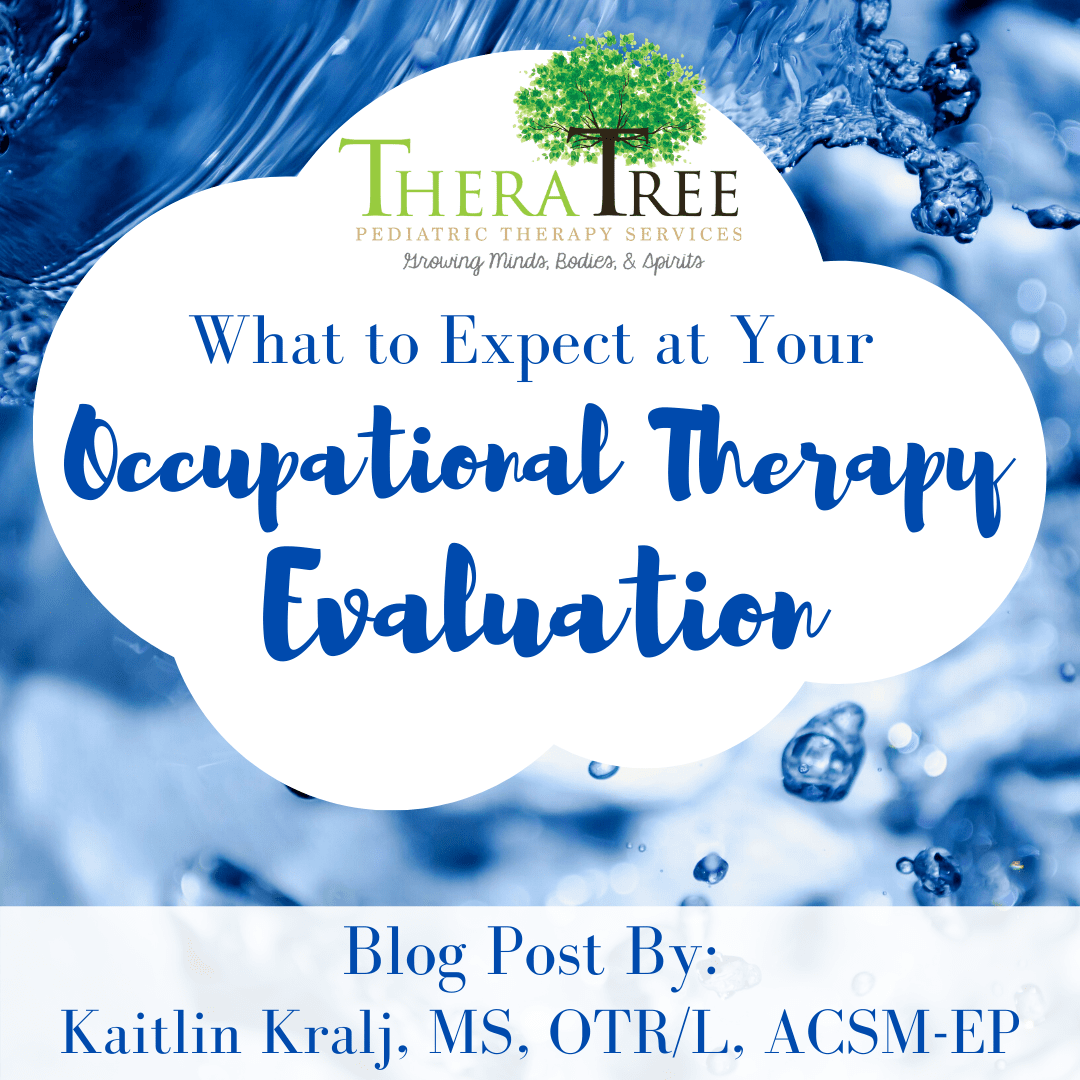 Blog: What to Expect at Your Occupational Therapy Evaluation
Learn about our standardized assessments, observations, caregiver interview, evaluation results, plan of cares, goals, treatment, progress and success!
Insurance & Payment Options
Insurances We Accept:
Aetna US Healthcare



Anthem
Assurant Health
Aultra Administrative Group
Benefit Administration Systems
BlueCross BlueShield
Bluegrass Family health
CBA (Cooperative Benefit Administrators)
Cigna
Comprehensive Benefits
Consecrate Group
Coventry Cares of Kentucky
CWI Benefits
D H Evans & Associates
EBC
Ecom PPO (Cooperative Benefit Administrators)
EPSDT
Humana

(ChoiceCare, Medicare Advantage, CareSource)

INETICO, Inc.

Kentucky Health Cooperative
When Maliyah first came to TheraTree she was very shy. She would provide one or two word answers during sessions when her therapist initiated the conversation, would hesitate to talk when others were around, and she would wait to ask for help until after her therapist offered. Now, when she arrives for therapy, she is excited to tell her therapist about the stuff she did during the week, reciprocates in the conversation for at least 10 minutes, and asks for help without any hesitation. Through encouragement and support, Maliyah is coming out of her shell and she is gaining more confidence every step of the way! We are so proud of you and your progress!

Medicaid

Mertain
North American Administrators
Owensboro Community Health Network
Passport Health Plans
Pittman & Associates
Preferred Health Plans
S & S Healthcare Strategies
The Health Plan
Tri-Care Health Net Federal Services
United HealthCare
WellCare of Kentucky
Wells Fargo/HealthSmart Solutions Ins.
If you haven't met your deductible, or have other out-of-pocket expenses, we accept the #CareCredit credit card to help bridge the gap between insurance and the cost of care.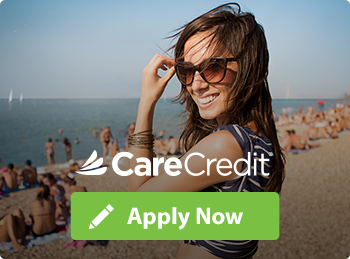 Don't see you insurance company? Don't worry! We accept many other plans and are willing to credential with new insurance companies. Call us to discuss your plan: 270-688-8449
FREE Developmental Checklist
Check now to see if your child is meeting their developmental milestones.

Use our interactive screening tool to see if your 1-6 year old is on track with their gross motor, fine motor, speech, and sensory skills.

FREE Screening
All screenings are FREE of charge and last about a fifteen minutes.
The purpose of a screening is to find out if there are areas of concern that need evaluation. If the screening identifies that your child presents with red flags that are not developmentally appropriate, it will be recommended to complete a comprehensive evaluation.
⭐️ Milestone Moment ⭐️
I started seeing Jasper on a few short weeks ago. In less than a month, I have seen so much progress! Today was the first session that his mom or grandma didn't have to stay with him longer than just to drop him off and pick him up. Jasper has struggled to play without throwing or destroying items, as well as showing variety in play. Today, Jasper independently initiated playing with 11 toys or games, and played with all of them appropriately. He had so much fun and is making so much progress in such a short time.