What is Speech Therapy?
The professionals who are educated to assess speech and language development and to treat speech and language disorders are called speech-language pathologists (sometimes informally referred to as speech therapists). Speech-language pathologists can also help people with swallowing disorders.
Does my child need Speech Therapy?
Doesn't Smile or Interact with Others (Birth-3M)

Doesn't Babble (4-7 Months)
Makes Few Sounds (7-12 Months)
Does Not Use Gestures (Ex: Waiving, Pointing) (7-12 Months)
Says Only a Few Words (12-18 Months)
Doesn't Put Words Together to Form Sentences (1 1/2 - 3 Years)
Has Trouble Playing and Talking with Other Children (2 - 3 Years)

Has Problems with Early Reading and Writing Skills (Ex: May Not Show Interest in Books or Drawing) (2 1/2 - 3 Years)
Says p, b, m, and h incorrectly (1 - 2 Years)
Says k, g, t, f, d, and n incorrectly (2 - 3 Years)
Produces Speech That is Unclear Even to Familiar People (2 - 3 Years)
Struggles to say sounds or words (2½–3 years)
Repeats first sounds of words—"b-b-b-ball" for "ball" (2½–3 years)
Pauses a lot while talking (2½–3 years)
Stretches sounds out—"f-f-f-f-farm" for "farm"(2½–3 years)
Learn About the Areas of Speech

Who benefits from Speech Therapy:

Achalasia
Aphasia (amnestic, global, nominal, semantic, syntactic)
Agnosia
Ankloglossia
Attention Deficit Disorder
Attention Deficit Hyperactivity Disorder
Aphasia
Aphonia
Apraxia
Autism Spectrum Disorder
Bell's Palsy
Central Auditory Processing Disorder
Cerebral Palsy
Cleft Lip or Palate
Concussion
Chronic Ear Infections
Congenital Malformation of the Musculoskeletal System
Congenital Malformation of the Respiratory System
Congenital Malformation of the Nervous System
Cognitive Communication Deficit
Desease of Vocal Cords

Dentofacial Anomalies

Developmental Disorder of Speech and Language
Down Syndrome
Dysarthria
Dyslalia
Dysphasia
Dysphasia
Dyspnea
Dysphonia
Dyslexia
Expressive Language Disorder
Facial Weakness
Feeding Difficulties
Fluency Disorder
Frontal Lobe and Executive Function Deficit
GERD/GER
Hearing Loss
Hemiplegia (right or lefts side)
Hyper/Hyponasality
Idioglossia
Intellectual Disabilities
Jaw Asymetry
Macroglossia

Malocclusion
Mixed Receptive-Expressive Language Disorder
Muscular Dystrophy
Neurofibromatosis
Nodules of Vocal Cords
Paralysis of Vocal Cord and Larynx
Phonological Disorder
Polyp of Vocal Cord and Larynx
Speech and Language Delay Due to Hearing Loss
Slurred Speech
Symptoms and Signs Involving Speech and Voice
Swallowing Disorders
Tracheostomy
Traumatic Brain Injury
Ventilator Dependence
Voice REsponance Disorders
Wernicke's
Zenker's Diverticulum
Attention
Articulation
Augmentative Communication Device Training
Chewing
Communication
Coughing
Chronic Hoarseness
Delay in Words
Eye Contact
Gagging
Following Directions (preferred or non-preferred)
Food Refusal
Initiates and Carries out Conversation
Intellectual thinking
Listening to Instructions
Limited Vocbulary
Literacy
Loudness of Voice
Matches Tone and Voice Level
Memory Concerns
Motor Planning
Organizing Environment
Perception
Pre-Linguistics
Pragmatics
Problem Solving
Putting words together
Reading
Respritory Problems
Seeking Needed Verbal or Written Information
Self Regulation
Semantics
Sequencing Tasks
Social Skills
Social Speech
Sound Production
Sound Processing
Stuttering
Syntax
Swallowing / Eating Food or Fluid
Takes Turns
Vocal Hygiene
Voice Pitch, Volume, Quality
Weak Oral Motor Muscles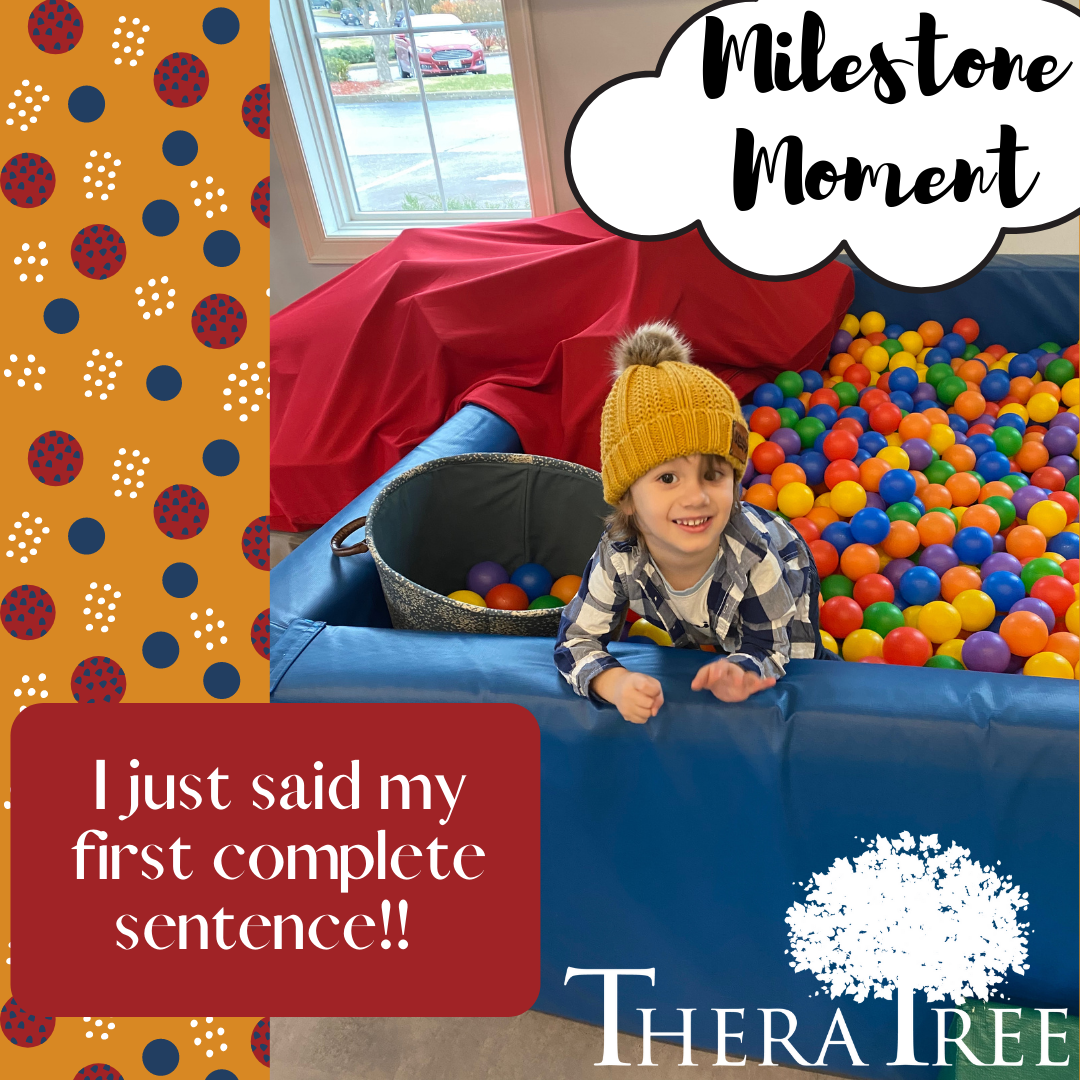 ⭐️Milestone Moment⭐️
Winston, who was struggling to say more than one word at a time a month ago and saying on average 20 words total; Just stated very clearly, "I'm ready to go!"!
Huge communication improvement for Winston! This is the first full sentence he has ever put together!! He is also now stating over 60 words!
Great job, Bud! Way to BLOOM at TheraTree! ♥️